Internal Retaining Snap Rings for Bores DIN472 GB893 Retaining Rings for Bores – Normal Type
Product Detail
Product Tags
Seeger-Rings for shafts and bores are the most common retaining rings. These rings provide the most favorable solution with respect to thickness and radial width. They transfer large axial forces from the located mating component onto the groove wall. The external rings can also be used for relatively higher shaft rotational speeds. Material:Phosphated spring steel Bright stainless steel.
Applications:
Mechanical engineering

Automotive engineering

Gear systems

Electrical engineering

Precision mechanics

Apparatus engineering
Circlips from Hebei Ruiye  are often used as retaining elements for ball bearings. When used for this they can be exposed to heavy forces. The circlips are fitted into grooves cut into shafts or bores. DIN 471 circlips are for shafts, DIN 472 circlips are for bores. Circlips are fitted using circlip pliers. Any forces applied by the machine component are transferred to the groove wall. Circlips save money and setup times.  The DIN 472-Internal circlip is the most common form of safety device for shafts with internal grooves. It can transmit considerable axial forces from the part of the machine which exerts the force to the groove in which the circlip is fitted.
Warning: electroplating of these products may cause hydrogen embrittlement
Details This product must be ordered in multiples of 5000, quantities will be rounded up as you add them.
Property: good anti-corrosion ability and anti rust spring steel and spring steel rings are an economical choice with good strength. A black-phosphate finish is mildly corrosion resistant in dry environments. In wet environments, zinc yellow-chromate plated finishes have some corrosion resistance, and zinc chromate plated finishes have good corrosion resistance. There are two types: internal and external circlips, referring to whether they are mounted in a bore or in a shaft. Circlips are often used to secure hinged connections.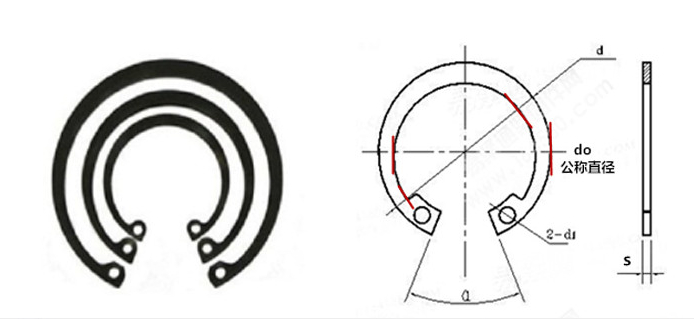 ---
Other Product
Note: it is possible to misinterpret the words in the previous paragraph. To state it another way, the ring should be oriented so that the force is applied against the flat side of the ring.
If a snap ring is positioned such that its flat side is pressed into the rounded edge of the groove then when load or force is applied, the flat edge of the snap ring will "bite" into the rounded edge of the retaining groove. The snap ring will distort and ride up the rounded edge, spreading an external snap ring and compressing an internal snap ring. This leaves the clip prone to being forced out of its groove and failure of retaining function. The accompanying images illustrate the correct orientation of the snap ring in its groove.
---
---
Write your message here and send it to us